» Coopers Brewery home beer making products
In 1864 Thomas Cooper left his business as a shoemaker in Adelaide, South Australia and started the Coopers Brewery. Today the fourth generation of Thomas' descendents still run his namesake business, including Managing Director Dr. Timothy Cooper and Board Chairman Mr. Glenn Cooper. Renowned British beer and spirits critic Michael Jackson gives the Coopers Brewery four stars and praises "their heartiness and uncompromising honesty". The Coopers Brewery has been producing hobby beer making products since 1975 and is the world-wide sales leader in homebrewing products.

Dr. Timothy Cooper & Mr. Glenn Cooper
To learn more about each of the Coopers Brewery's
Home Beer Making Products, click on the image below
Coopers Brewery Original Series Beer Kits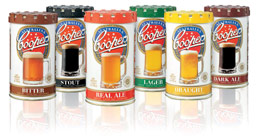 The original six beer kits that started it all. The Coopers Brewery Lager Beer Kit is the best selling beer kit in the world. Each kit is complete, easy to use and is packaged with the Coopers Brewery's special strain of proprietary beer yeast that is renowned for its consistency and fermentability.
To view the instructions in English click here.
To view the instructions in French click here.
Coopers Brewery International Series Beer Kits

Three kits specifically designed to appeal to regional tastes. When the Coopers Brewery introduced the Canadian Blonde, it was the first beer kit produced by the Coopers Brewery specifically to meet a particular area's demand. Its popularity resulted in its world-wide availability.
To view the instructions in English click here.
To view the instructions in French click here.
Thomas Coopers Brewmaster Series Beer Kits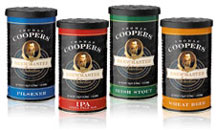 When The Coopers Brewery introduced the Brewmaster Series in 2001, it launched a whole new dynamic in simple and easy homebrewing. Each style of Brewmaster Series beer kit is packaged with a stylistically appropriate yeast. This is a major departure from the standard "one-size-fits-all" yeast found in most beer kits. Because the flavor characteristics in brewing yeast play a substantial role in the overall flavor of beer, the difference you get with Brewmaster Series Beer Kits is immediately discernable.
To view the instructions in English click here.
To view the instructions in French click here.
Thomas Coopers Premium Series Beer Kits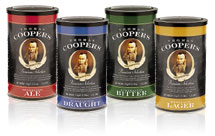 Thomas Cooper Premium Selection Beer Kits introduces the next generation of beer kits, combining the simplicity and ease of brewing beer kits, with the quality of producing all-malt beers using the latest in beer kit production techniques. Each Thomas Coopers Premium Selection Beer Kit is specifically designed to be produced with 1.5 kg (1 can) of Coopers Brewery Premium Malt Extract, thereby producing a beer with a richer flavor and fuller body. Additionally, with the Thomas Cooper Premium Selection Beer Kits, Coopers introduces its unique late hopping production technique which gives the finished beers a more pronounced hop nose and character. Boy do we like these new beers!
To view the instructions in English click here.
To view the instructions in French click here.
Coopers Brewery Unhopped Malt Extract

Either as the base for your favorite recipe, or when used with a Coopers Brewery Beer Kit, Coopers Brewery Unhopped Malt Extracts are made with the highest quality barley, and produced using the same exacting standards as all Coopers Brewery beers. When noted author Ray Daniels tested our Unhopped Malt Extract, he found it to be the most fermentable of all he tested. (Designing Great Beers, pg. 15)
Coopers Brewery Carbonation Drops

Coopers Carbonation Drops are a unique easy-to-use homebrew carbonation system. Each drop has the ability to fully carbonate one 12-oz bottle, with two drops fully carbonating a 22-oz bottle. Each package contains 60 drops, enough to bottle 6 gallons of beer. Coopers Brewery Carbonation Drops contain no additives, preservatives, fillers or binders. Just 100% ease in bottling.
Coopers Brewery Dry Malt Extract

The Coopers Brewery Light Dry Malt Extract (DME) is a very light, spray-dried DME produced from Coopers Brewery malt concentrate. It is 100% malt extract, has a pronounced malt character and the same high degree of fermentability as other Coopers malt concentrate products.
Coopers Brewery Fermentables


The Coopers Brewery "Fermentables" offers you high quality brewing sugars and brewing sugar blends. You can tailor both Coopers Brewery Beer Kits and your own personal recipes, having confidence that you are working with only the best ingredients, specifically designed for home brewing.
Coopers Brewery Microbrewery Kit

The NEW Coopers Micro Brew Kit is designed to give you everything you need to brew your own high quality, completely natural, great tasting beer every time. At Coopers we have taken the guesswork out of home brewing, in fact by following the four simple steps (detailed instructions are supplied), you can make a world class beer. Enjoy the satisfaction of creating your own special beer variety, free from additives and preservatives - it's easy and it is fun!
Coopers Brewery Pure Brewer's Yeast

This fast-attenuating yeast produces a balanced flavor profile and has strong flocculation characteristics. Under normal fermentation conditions its use will result in a clean, rounded flavor profile comparable to commercially produced beers. Coopers Ale yeast is packaged in nitrogen-flushed, thermal resistant foil packages under a reduced oxygen environment to maintain its viability and shelf life.